Part 6—Management and accountability
Corporate Governance
As required by the Commonwealth's Enhanced Performance Framework, the Office developed and publicly released its 2019–20 Corporate Plan in August 2019. The plan framed the Office's strategic vision, objectives, deliverables and key performance indicators for the next four years.
Figure 8—Committee Structure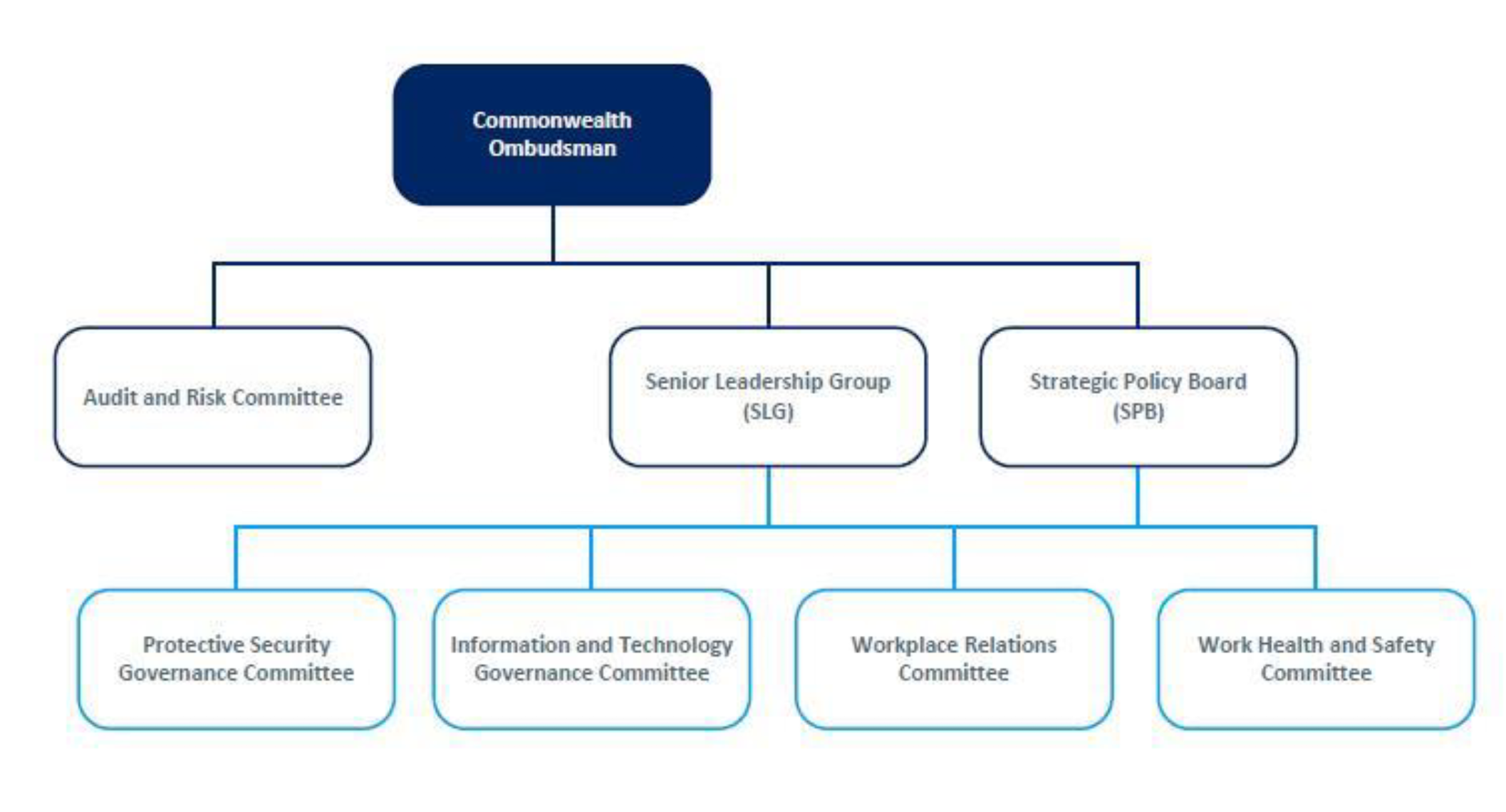 Senior Leadership Group
The Senior Leadership Group (SLG) is the Office's leadership and management committee and provides continuous oversight of the Office's operational functions. It meets monthly to make decisions in relation to corporate governance, performance, compliance and resource allocation to ensure the Office meets its legislative functions and purpose. The SLG is comprised of the Ombudsman, Deputy Ombudsman, Senior Assistant Ombudsman (SAO) and the Chief Operating Officer (COO).
Strategic Policy Board
The Strategic Policy Board is comprised of the Ombudsman, Deputy Ombudsman, SAOs and the COO. The board meets monthly to consider the strategic priorities of the Office, such as consideration of public interest issues and business intelligence to inform the selection, prioritisation, scoping, resourcing, timing and delivery of strategic projects. Such projects include own motion investigations, issues papers, submissions, products and targeted engagement activities by the Office in fulfilment of its statutory mandate.
Audit and Risk Committee
The Office has an Audit and Risk Committee in compliance with s 45 of the Public Governance, Performance and Accountability Act 2013 (PGPA Act) and PGPA Rule s 17 (Audit Committees for Commonwealth Entities).
The role of the committee is to provide independent assurance to the Ombudsman on the Office's financial and performance reporting responsibilities, risk oversight and management and systems of internal control. A copy of the Audit and Risk Committee charter is available on our website.
Regular observers at committee meetings included representatives from the Australian National Audit Office (ANAO), the Office's internal auditors RSM Australia and the Office's Chief Operating Officer (COO) and Chief Financial Officer (CFO).
The Audit and Risk Committee met four times during the year and comprised of the following membership during the reporting period.
Table 5—Audit and risk committee members
| Member name | Position | Qualifications, knowledge, skills or experience (include formal and informal as relevant) | Period of membership during the year | Number of meetings attended / total number of meetings | Total annual remuneration |
| --- | --- | --- | --- | --- | --- |
| Will Laurie | External independent member and Chair | Formal finance and economics qualifications. Substantial experience in corporate and professional management at Price Waterhouse; Boyce Chartered Accountants and birdsnest.com. Twenty years' experience on Commonwealth and ACT audit and risk committees. | 1 July 2019 to 30 June 2020 | 4/4 | $18,000 |
| Alfred Bongi | External independent member | Formal accounting, economics and mediator qualifications. Graduate of the Australian Institute of Company Directors. Thirty-six years' experience in the Australian Public Service including 13 years as a Senior Executive. Over 10 years' experience in Commonwealth governance, fraud, audit and risk committees. | 1 July 2019 to 30 June 2020 | 4/4 | $16,600 |
| Joanna Stone10 | External independent member | Formal finance qualifications. Substantial public and private sector management experience. Experience across several audit committees as member and chair | 1 July 2019 to 30 June 2020 | 4/4 | - |
| Jaala Hinchcliffe | Internal member and Deputy Ombudsman | Formal legal qualifications, including being admitted to practice in the Supreme Court of ACT, the Supreme Court of NSW and the High Court of Australia. Member of the Australian Institute of Company Directors. Substantial public sector management experience. | 1 July 2019 to 7 February 2020 | 2/2 | - |
| Paul Pfitzner | Internal member and Acting Deputy Ombudsman | Formal legal qualifications, including being admitted to practice in the Supreme Court of ACT. Substantial public sector management experience. Experience as Chief Audit Executive and member of the Attorney-General's Department's audit committee. | 10 February 2020 to 30 June 2020 | 2/2 | - |
10Officials of Commonwealth entities are not remunerated.
Management Committees
Management committees assist the Ombudsman with governance and decision-making.
Work Health and Safety Committee
The Office's Work Health and Safety Committee is made up of elected staff representatives from each of our offices and is chaired by the SAO of the Program Delivery Branch. The committee meets on a quarterly basis throughout the year. It has a strategic role in reviewing work health and safety matters and procedures to ensure we meet the terms of the Work Health and Safety Act 2011.
Workplace Relations Committee
The COO chairs the Workplace Relations Committee. It is comprised of employee, management and union representatives and is the forum for regular exchange of information on Office employment and workplace relations matters, including the implementation and operation of the Office's Enterprise Agreement.
Information and Technology Governance Committee
The Information and Technology Governance Committee (ITGC) is chaired by the Deputy Ombudsman. It oversees the management of the Office's information and technology resources and assets. The Committee provides strategic oversight of the development and implementation of information and technology policy, processes and systems across the Office.
The ITGC is the committee for the Office's compliance with legislation, standards and requirements of the National Archives of Australia. It oversees and monitors the Office's progress against the Digital Continuity 2020 policy and targets to implement the Australian Government's digital transformation and e-Government initiatives.
Protective Security Governance Committee
The Office of the Commonwealth Ombudsman (the Office) established a Protective Security Governance Committee in 2019–20. The purpose of the committee is to support the Accountable Authority (Commonwealth Ombudsman) to implement the intent of, and monitor the Office's performance and compliance with the mandatory and supporting requirements of the Protective Security Policy Framework.
Corporate Governance Practices
Risk management
In 2019–20, the Office undertook a comprehensive internal review and update of its risk management policy and Framework, risk appetite statement, risk assessment matrix and associated resources. The revised policy and Framework will be implemented during the early stages of the 2020–21 period.
Our risk management framework comprises a formal policy and framework, identified enterprise risks which are addressed in a strategic risk register and risk appetite statement. Strategic risk reporting is undertaken quarterly.
The SLG regularly reviews strategic and operational risks as part of the business planning process. The Office also participates in the annual Comcover Risk Management Benchmarking Survey, which independently assesses the Office's risk management maturity.
Additional oversight of our risk management is provided by the Audit and Risk Committee who provide the Ombudsman and SLG with independent practical guidance and support regarding risk management strategies and review of the office's risk management policy and framework.
Business Resilience Management
In September 2019, Deloitte Australia completed an independent review of the Office's previous Business Continuity Framework and Plan. An outcome of the review is that the Office adopted an integrated business resilience governance model that provides streamlined control processes for managing the various events that may impact its ability to perform critical functions, staff safety and technology systems.
This approach is captured in the Office's overarching Business Resilience Policy and Framework and operational Enterprise Response Plan. The Senior Leadership Group is responsible for the oversight and review of these documents.
The Enterprise Response Plan was implemented to address the impact of the 2020 COVID-19 pandemic on the Office's core functions and staff safety. The Office will continue to build upon its business resilience capabilities in response to this event.
Accessibility
In developing and maintaining the Office's websites, we use the World Wide Web Consortium (W3C) Web Content Accessibility Guidelines (WCAG) 2.0 as the benchmark.
Our online services are compliant with WCAG 2.0. Management of the website includes authoring tools to check for accessibility issues and compliance reporting, and graphic design which uses high contrast and a simple presentation of content to assist readability.
Ethical standards
Our Office promotes high ethical standards and behaviours by our staff. We provide information to our staff on the Australian Public Service Commission's Ethics Advisory Service and we have an Ethics Contact Officer available to staff. Our Intranet contains information about:
APS Values and Code of Conduct
workplace discrimination, bullying and harassment
conflict of interest
acceptance of gifts and hospitality
procedures for determining breaches of the Code of Conduct
procedures for facilitating and dealing with public interest disclosures relating to the Office.
Employee Performance Development Agreements contain the following mandatory behaviour: 'In undertaking my duties I will act in accordance with the APS Values, Employment Principles and APS Code of Conduct.'
The induction handbook for new starters provides appropriate information on the APS Values, Employment Principles and APS Code of Conduct, including information on the Australian Public Service Commission's Ethics Advisory Service.
Fraud Control
The Office's fraud control strategies comply with the Commonwealth Fraud Control Framework 2017 and the legislative requirements of the PGPA Act.
The Fraud and Corruption Control Plan and the Accountable Authority instructions provide the foundations of the Office's fraud control framework. The Office conducted its biennial review of its fraud control framework in 2019–20 to ensure that the Office's Fraud and Corruption Control Plan and Fraud Risk Assessment are current, support and inform staff behaviours and minimise the risks of fraud within the Office.
The Fraud and Corruption Control Plan identifies the Office's fraud risks and details the measures in place to prevent, detect and respond to fraud and corruption against the Office.
All fraud allegations are reported to the Ombudsman and the Audit and Risk Committee and fraud investigations are outsourced as required. An investigation into one incident of potential fraud was finalised in 2019–20. While the investigation did not proceed on the basis of available evidence, the Office has reviewed and strengthened processes and procedures to mitigate the potential for similar incidents in the future.
Throughout October and November 2019, compulsory fraud and corruption awareness training sessions were delivered to ensure staff awareness and understanding of their fraud and corruption responsibilities, liabilities and reporting requirements. Fraud and corruption resources and references are available to all staff on the Office intranet.
External scrutiny
Court and tribunal litigation
No decisions of courts or administrative tribunals made in 2019–20 had, or may have, a significant effect on the operations of the Office.
Office of the Australian Information Commissioner
During the reporting period, the Office of the Australian Information Commissioner (OAIC) advised our Office of three matters where the applicant sought review of our decision, and one matter where the applicant complained about action taken by our Office in relation to requests received under the Freedom of Information Act 1982 (the FOI Act). At the time of reporting all of these matters remain under consideration by the Information Commissioner.
The Office received three decisions from the OAIC in relation to reviews that commenced in 2018–19. The OAIC finalised these matters under s 54W(a)(i) of the FOI Act.
The Office received one decision from the OAIC in relation to a complaint that was received in 2018–19. The OAIC finalised this matter under s 73(e) of the FOI Act.
The Office is subject to the Privacy Act 1988. During the reporting period, the Privacy Commissioner received two complaints about our Office. In the first matter, the complaint was withdrawn. The second matter remains under consideration by the Privacy Commissioner. A complaint received during the previous reporting period also remains under consideration by the Privacy Commissioner.
Australian Human Rights Commission
The Office is subject to the jurisdiction of the Australian Human Rights Commission. During the reporting period, the Commission received and investigated one complaint about our Office. The complaint was finalised following conciliation.
Management of Human Resources
Overview
Our people are our greatest asset and investment in their capability ensures the Office continues to deliver high quality work. The Office's 2018–19 Corporate Plan outlined capability investments that the agency would make to ensure it continues to deliver on its purpose.
People
The Office Learning and Development Strategy 2018–2020 sets a framework that delivers greater understanding of our learning and development investment priorities.
The strategy is linked to the Strategic Workforce Plan to ensure employees have the capabilities to meet the Office's objectives, now and into the future. The strategy is flexible in addressing learning and development needs in a diverse and changing environment.
The strategy focuses on the following three priority areas:
Core corporate capabilities
Functional or role-based capabilities
Leadership development and succession planning
During 2019–20 we delivered the following learning and development initiatives:
Clear writing workshops
Leadership workshops targeting future leaders
Core corporate, functional and role-based offerings, including privacy matters, managing unreasonable complainant conduct, executive level procurement, disability confident managers and recruiters, and working with Indigenous language interpreters
In response to COVID-19 an increase of e-learning offerings, including a suite of offerings targeting working well from home
Implemented LearnHub 2.0 (Learning Management System) to manage e-learning as well as face-to-face learning and other educational resources
Trialled and delivered Mental Health First Aid workshops and other mental wellbeing programs (Vicarious Trauma, Managing Team Wellbeing) to promote mental health and wellbeing in the Office
Work Health and Safety
The Office is committed to maintaining a safe and healthy workplace for all employees, contractors and visitors. We acknowledge our employer responsibilities under the Work Health and Safety Act 2011, the Safety Rehabilitation and Compensation Act 1988 and relevant anti-discrimination legislation.
Health and safety initiatives undertaken in 2019–20 included:
the Office-wide Wellbeing Program which presented four themes across the year: mindfulness, physical activity, nutrition and staying connected
working Well from Home initiative and streamlined Home-Based-Work due to the COVID-19 pandemic
resources to support staff through COVID-19 including comprehensive Frequently Asked Questions, a secondment pack for APS employees that were redeployed
expansion and refinement of specialised wellbeing service for areas identified as 'high risk' due to the nature of the work, including one-on-one wellbeing check sessions with staff
employee Assistance Program (EAP) provider to deliver counselling and coaching services to employees
free flu vaccinations for employees. This year's program was rolled out with additional hygiene, social distancing and COVID-safe precautionary measures
ongoing support under the Office's Early Intervention Policy
workplace safety inspections
staff representative training and refresher training for Health and Safety Representatives, Harassment Contact Officers and First Aid Officers.
During the reporting period there were two notifiable incidents, one of which was an incident resulting in a minor injury. These were both caused by maintenance issues within a new tenancy which were quickly rectified without further incidents.
Employment arrangements
The Office's Enterprise Agreement 2017–2020 came into effect on 31 August 2017.
As at 30 June 2020, a total of 224 employees were covered under the current agreement. The Agreement does not make provision for performance pay. Salary advancement within each of the non-SES classifications is linked to performance. Six employees had an Individual Flexibility Arrangement in place under the provisions contained in the agreement.
Conditions are provided for SES staff under s 24(1) of the Public Service Act 1999 (Public Service Act). Determinations under s 24(1) of the Public Service Act provide SES annual salary advancement based on performance and do not make provision for performance pay.
The Office does not have any staff employed under Australian Workplace Agreements or common law contracts.
The Office offers non-salary benefits to our employees under the agreement and other individual industrial instruments. These benefits incorporate various types of leave, such as annual, personal and long service leave, as well as flexible working arrangements, access to salary packaging, lifestyle reimbursement and eyewear reimbursement for screen-based work.
Diversity and inclusion
The Office values a diverse workforce and strives to foster an inclusive workplace. The Office's Diversity and Inclusion Strategy ensures we value and respect the diversity of our employees, stakeholders and partners.
Actions taken in 2019–20 revolved around the themes of recruitment, cultural competence and retention and engagement of diverse groups. Recruitment initiatives included disability and Indigenous rounds and Indigenous graduate recruitment. Cultural competence and diversity training was mandated for all existing and new staff through the use of e-learning and face-to-face training. Retention and engagement was encouraged through the establishment of diversity employee networks and the celebration of important cultural events such as NAIDOC week.
Workforce profile
As at 30 June 2020 there were 232 staff (219.07 full time equivalent) employed across the Office. These figures include the Ombudsman and Deputy Ombudsman who are statutory office holders.
Women made up 67 per cent of the Office's workforce. 22 per cent of employees worked part-time. Staff who identified as Indigenous made up 3.5 per cent of our workforce and 6 per cent of staff identified as living with a disability.
Table 6—Workforce profile as at 30 June 2020
At 30 June 2019

At 30 June 2020

Category

Ongoing

Non-ongoing

Total

Ongoing

Non-ongoing

Total

APS Classification

APS2

0

1

1

0

0

0

APS3

5

2

7

3

1

4

APS4

19

2

21

27

0

27

APS5

46

11

57

43

7

50

APS6

47

2

49

50

1

51

Executive Level 1

64

6

70

65

3

68

Executive Level 2

25

0

25

24

0

24

SES Band 1

6

0

6

6

0

6

Statutory Officers

2

0

2

2

0

2

Total

214

24

238

220

12

232

Location

ACT

131

14

145

119

11

130

NSW

9

4

13

11

0

11

QLD

24

1

25

30

0

30

SA

23

1

24

30

0

30

VIC

24

1

25

25

0

25

WA

3

3

6

5

1

6

Total

214

24

238

220

12

232

Gender and Diversity

Female

148

18

166

148

6

154

Male

66

6

72

72

6

78

Indigenous

7

0

7

8

0

8

People with disability

11

1

12

14

0

14

Employment Status

Full-time

181

20

201

169

10

179

Part-time

33

4

37

51

2

53
Purchasing
The Office is committed to achieving the best value for money in procurement activities and manages this using procurement practices that are consistent with the Commonwealth Procurement Rules. This includes the use of the Commonwealth Contracting Suite to prepare approaches to market and to formalise contracts. The procurement practices are supported by the Accountable Authority Instructions and internal policies and guidelines.
To improve efficiency in procurement, the Office accesses established procurement panels where possible. The Office of the Commonwealth Ombudsman supports small business participation in the Commonwealth government procurement market. Small and Medium Enterprises (SME) and Small Enterprise participation statistics are available on the Department of Finance's website. The Office's procurement methods do not discriminate against small and medium-sized enterprises.
Our policies and processes include a requirement to visit the Supply Nation website first, to check whether any Indigenous businesses can provide the goods or services required. We seek to enter into engagements with Indigenous businesses where possible, ensuring that the arrangement adheres to the value for money and best fit principles. All procurements entered into by the Office are done on the basis of value for money and best fit.
All procurements that are in excess of $10,000 are published on AusTender as soon as practicable.
Consultants
The Office engages consultancy services in circumstances when particular expertise is not available internally or when independent advice is required. Consultancy services include financial services, IT development and mediation services.
Annual reports contain information about actual expenditure on reportable consultancy contracts. Information on the value of reportable consultancy contracts is available on the AusTender website.
No contracts were let containing provisions that do not allow the Auditor-General to have access to the contractor's premises, and no contracts were entered into that were exempt from publication on AusTender.
The Office does not administer any grant programs.
During 2019–20, six new reportable consultancy contracts were entered into involving total actual expenditure of $149,000. In addition, five ongoing reportable consultancy contracts were active during the period, involving total actual expenditure of $211,000.
Table 7—Number and expenditure on Consultants Current Report Period (2019–20)
| | Total |
| --- | --- |
| No. of New contracts entered into during the period | 6 |
| Total actual expenditure during the period on new contracts (inc. $GST) | 149,000 |
| No. of Ongoing contracts engaging consultants that were entered into during a previous period | 5 |
| Total actual expenditure during the period on ongoing contracts (inc. $GST) | $211,000 |
Advertising campaigns
The Office did not undertake any advertising campaigns.
Exempt contracts
There were no contracts over $10,000 exempt from reporting on AusTender.
Compliance reporting
There were no significant issues reported to the responsible minister under paragraph 19 (1) (e) of the PGPA Act, which relates to non-compliance with finance law by the Office.
An internal compliance process is undertaken throughout the year and the results considered by the Senior Leadership Group and the Audit and Risk Committee.
Asset management
The assets managed by our Office include information and communication technology (ICT) assets, plant and equipment, property, and intangible assets such as software. With the exception of the property assets, all of these assets are handled internally and the five year capital replacement and capital investment plans predict our requirements.
Our ICT assets are managed in-house. Our property plant and equipment assets are primarily ICT assets and are supported by maintenance agreements and warranties. Intangible assets comprise software and websites, which are either supported internally or through a support contract. The other major asset is property leasehold fit out. We currently have offices in Adelaide, Brisbane, Canberra, Melbourne, Perth and Sydney.
Disability Reporting
Since 1994, non-corporate Commonwealth entities have reported on their performance as policy adviser, purchaser, employer, regulator and provider under the Commonwealth Disability Strategy. In 2007–08, reporting on the employer role was transferred to the Australian Public Service Commission's State of the Service reports and the APS Statistical Bulletin. These reports are available at apsc.gov.au. From 2010–11, entities have no longer been required to report on these functions.
The Commonwealth Disability Strategy has been overtaken by the National Disability Strategy 2010–2020, which sets out a 10-year national policy framework to improve the lives of people with disability, promote participation and create a more inclusive society. A high-level, two-yearly report will track progress against each of the six outcome areas of the strategy and present a picture of how people with disability are faring. The first of these progress reports was published in 2014, and can be found at dss.gov.au.