HIGHLIGHTS
Complaints overview
Performance overview
Financial performance
Complaints overview
In 2017–18 we received a total of 46,494 approaches (complaints and other approaches such as calls to request a publication), compared to 41,301 approaches received in 2016–17, an increase of 12 per cent.
Of the total approaches received, 38,026 were in-jurisdiction complaints (compared to 34,606 in 2016–17) with 50 per cent of these attributable to the following agencies: the Department of Human Services (Centrelink: 10,823 and Child Support: 1,315), Australia Post (3,772), the Department of Home Affairs (1,838) and the National Disability Insurance Agency (1,528). Complaints received about Centrelink decreased by nine per cent over the previous year and comprised 28 per cent of all in-jurisdiction complaints received.
Under the new Vocational Education and Training (VET) Student Loans Ombudsman function which began on 1 July 2017, we received 6,397 complaints from students disputing their debts or other issues with their VET provider.
In 2017–18 we also received 1,528 complaints about the National Disability Insurance Agency, an increase of 256 per cent from 2016–17.
The Office receives approaches by a variety of methods, with telephone being the preferred method, followed by online. Figure 2 below shows the trend in how approaches and complaints were received over the last five years.
Figure 2 – How approaches were received by the Office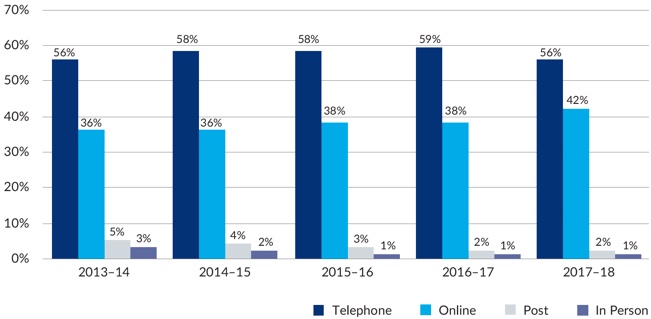 The Office was able to finalise 35,357 in-jurisdiction complaints in 2017–18, a three per cent increase on 2016–17.
Of the complaints investigated, 20 per cent required more substantial investigation (categories four and five in the Office's five-category complaint system). This figure is 17 per cent higher than in 2016–17.
The Office generally declines to investigate when:
the matter is out of jurisdiction (for example, it might relate to the actions or decisions of a Minister)
the complainant has not approached the agency first (we generally give agencies an opportunity to address matters first)
the complainant was transferred to another complaint-handling body where that body is more appropriate to handle the complaint, or
there is no prospect of getting a remedy for the complainant by investigating their complaint.
Reviews
The Office has a formal non-statutory review process for complainants who may be dissatisfied with the decision reached by the Office.
As a first step, the investigation officer will reconsider their decision where a complainant indicates they are dissatisfied with the decision. A complainant who remains dissatisfied following the reconsideration may request a review. A review manager decides whether to grant a review and allocates the review to an officer not previously involved with the matter. This financial year, in the interests of greater consistency, one staff member has conducted the majority of the reviews.
In 2017–18, we received 155 requests for review (representing 0.3 per cent of complaints finalised), compared to 123 (0.3 per cent of complaints finalised) received in 2016–17.
The Office declined 48 requests, affirmed the original investigation decision in 76 reviews, decided to investigate, or further investigate, 16 reviews and to change the original decision in three.
The number of review requests declined is consistent with an increased focus on whether there was any reasonable prospect of getting a better outcome for the complainant and whether investigation or further investigation would be an effective use of available resources. The Office reflects upon any issues arising from reviews and uses them as an opportunity to improve our own practices and procedures.
Performance overview
A summary of the Office's 2017–18 annual performance results against each KPI, as established in the Office's 2017–18 Portfolio Budget Statement and 2017–18 Corporate Plan, is presented below in Table 1.
Table 1 – Office's key performance indicators, targets and results
Key Performance Indicator
Target
Result
KPI 1
Percentage of recommendations/suggestions made during an inspection for which progress has been followed up within 12 months of being made
100%
100%
KPI 2
Percentage of recommendations made in public reports accepted by entities
75%
100%
KPI 3
Percentage of reports on long term detention cases sent to the Minister within 12 months of the review being received from the Department
80%
99.7%
KPI 4
Percentage of State of the Network reports issued within three months of the reporting cycle
90%
0%
KPI 5
Percentage of stakeholders which participated in engagement activities who provided an average of 'satisfied' or 'very satisfied' rating in feedback forms/surveys
90%
98%
KPI 6a
Percentage of outputs delivered under the Australian Aid arrangements
80%
100%
KPI 6b
Percentage of reporting requirements met under the Australian Aid arrangements
100%
100%
KPI 7
Percentage of approaches finalised within the Office's service standards
85%
74.9%
KPI 8
Percentage of Office statutory requirements in relation to law enforcement met
100%
100%
KPI 9
Percentage of Office statutory requirements in relation to Commonwealth public interest disclosures met
100%
100%
KPI 10
Percentage of public users who completed the survey for privatehealth.gov.au who provided a 'satisfied' or 'very satisfied' response regarding the quality of information provided by the website
80%
78.9%
Analysis
The Office met eight of eleven KPI targets for 2017–18 with one target being missed only fractionally. These results demonstrate the Office's ability to carry out its purpose during the period.
The Office continues to operate in an environment of constrained resources and increasing approaches received. A total of 74.9% of approaches were closed by the Office during 2017–18 within service standard timeframes, which was below the target of 85% for KPI7.
Of particular note this year were the large volumes of complaints about the historic VET FEE-HELP program received by the new VET Student Loans Ombudsman team, the 256 per cent increase in complaints about the NDIS and an increasing workload for our Defence Force Ombudsman team, particularly since the Government's announcement of the reparation payment for historic Defence abuse victims.
Complaints in all of these areas require careful handling and analysis. Often, they are not amenable to rapid resolution. On occasions, too, our capacity to meet our timeliness targets is impacted by the speed with which agencies respond to our requests for information.
The result for KPI 3 improved significantly from 82.6 per cent last year to 99.7 per cent this year. The result is due to process improvement and hard work by the Statutory Reporting team.
While our result for KPI 4 did not meet our expectations, all post-visit reports were issued in a timely manner. Resources have been redirected towards this activity and the target is envisaged to be met in 2018–19.
We have recently adjusted our structure to improve functional alignment and improve efficiency. We are pleased to have received additional resources in the 2018–19 Budget that will enable us to bolster those parts of our Office that are currently under strain.
We will focus our energy in 2018–19 on enhancing the capability of agencies to handle complaints themselves with a view to reducing, over time, the need for some complainants to seek resolution of their issues with the Office. We are also developing means to assess whether agencies are providing reasonable outcomes for complainants following our involvement in, or referral of, complaints to agencies. Further details can be found in Appendix 3.
Financial performance
The Office recorded a small operating deficit of $0.147 million in 2017–18–excluding depreciation and amortisation (2016–17 operating surplus of $0.093 million). The deficit was driven by non-cash adjustments to employee leave liabilities ($0.246 million). The 2017–18 operating deficit was broadly consistent with the balanced outcome estimate in the 2017–18 Portfolio Budget Statements.
Expenses
Total expenses increased from $29.9 million in 2016–17 to $36 million in 2017–18. The increase was mainly driven by costs associated with contractors ($3.6 million) and additional staffing costs ($2.9 million) relating to new functions including, the VSLO, expansion of the Defence Force Ombudsman (DFO) function, the ACT Reportable Conduct and ACT FOI schemes.
Income
Revenue from government increased from $21 million in 2016–17 to $23.7 million in 2017–18, an increase of $2.7 million.
This was due to the additional funding received for:
the new VET Student Loans Ombudsman function ($1.6 million)
oversight of the National Disability Insurance Scheme (NDIS) ($1.2 million)
the move to appropriation from rendering services revenue of $0.3 million for oversight of the Australian Building and Construction Commission (ABCC) and the Australian Federal Police (AFP).
The funding increase were offset by reductions generated by savings measures and efficiency dividends.
Sale of goods and rendering of services revenue increased from $8.1 million in 2016–17 to $11 million in 2017–18. The increase mainly related to the cost recovery arrangement with the Department of Defence for the abuse reporting function and additional revenue from the ACT Government for the ACT Reportable Conduct and the ACT FOI schemes. The remaining revenue is represented by the International Program funded by the Department of Foreign Affairs and Trade and the work undertaken for the ACT Ombudsman function, funded by the ACT Government.
Assets
Total assets decreased marginally by $0.03 million, key movements in assets included:
a decrease in trade and other receivables ($1.8 million)
an increase in other financial assets of ($0.74 million), related to lease incentives
an increase in land and buildings ($0.95 million), mainly related to new office fit-outs
an increase in other non-financial assets ($0.2 million).
The Office acquired $2.1 million in new assets in 2017–18, funded through the Departmental Capital Budget. This included the replacement of ICT infrastructure, purchase of new software, refurbishment of offices and enhancements to core existing ICT systems.
Trade and other receivables accounted for a $1.8 million decrease in assets, this was primarily associated with the cost recovery arrangements for the Defence abuse reporting function, which ceased this financial year. This function will be funded through revenue from the government from 2018–19.
Assets were checked for impairment and a stocktake undertaken at year end to assure completeness. Assets are maintained and kept in good working order by the Office.
Liabilities
Total liabilities increased by $0.3 million, which was mainly due to:
an increase in the lease incentives ($0.6 million) and provisions ($0.3 million), offset by
a decrease in trade creditors ($0.4 million) and unearned income ($0.2 million).
The increase in provisions of $0.3 million comprised an increase in employee provisions of $0.8 million, offset by a decrease in onerous contracts of $0.5 million. Further details can be found in Appendix 2.