HIGHLIGHTS
Growth in complaints
Defence reparation payment
Reports
New function – VET Student Loans
National Disability Insurance Agency
Leadership of the Office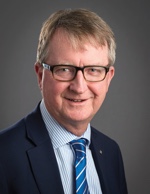 I am pleased to introduce the annual report for the Office of the Commonwealth Ombudsman for 2017–18.
Over the last 12 months we have made headway across many areas, new and existing functions, individual complaint issues and systemic issues. We have published reports on matters as diverse as problems with the NDIS, citizenship decision-making, the transport of cargo across our wharves, complaint-handling at Australia Post and health insurance policy changes. It was pleasing to see agencies accepting our recommendations, which reflects well on our capacity to influence systemic improvement.
As the following paragraphs demonstrate, 2017–18 was a year of continued growth and an expansion of my Office's jurisdiction. These factors, and the need to meet our statutory functions, made for a challenging year and continues to set the scene for the years ahead.
Growth in complaints
In 2017–18, our complaint-handling work continued to grow. We received a total of 46,494 approaches compared to 41,301 in 2016–17–an increase of 12 per cent.
Of the total approaches received, 38,026 were in-jurisdiction with 50 per cent of these attributable to the Department of Human Services (Centrelink and Child Support), Australia Post, the Department of Home Affairs and the National Disability Insurance Agency. Complaints received about Centrelink decreased by nine per cent over the previous year and comprised 28 per cent of all in-jurisdiction complaints received.
Defence reparation payment
On 15 December 2017, the Minister for Defence, Senator the Hon Marise Payne, announced the introduction of the Defence Reparation Scheme for survivors of Defence abuse.
My Office has been taking reports of abuse since 1 December 2016, complementing internal mechanisms to report abuse within Defence. Since this announcement, we commenced assessing reports against the government's policy to determine whether a reparation payment should be recommended.
Since the announcement of the reparation framework, we have sent 66 reparation payment recommendations to Defence. To 30 June 2018, Defence considered and accepted in full 51 recommendations, and none have been declined.
Reports
During 2017–18, I published the following reports which are available on our website:
June 2018 – Bupa Health Insurance Hospital Policy Changes
May 2018 – Investigation into delays in processing inbound Containerised Sea Cargo
May 2018 – Administration of reviews under the National Disability Insurance Scheme Act 2013
April 2018 – Review of Australia Post complaints about carding, Safe Drop and compensation
April 2018 – Investigation into the circumstances of the immigration detention of Mr G
December 2017 – Delays in processing of applications for Australian Citizenship by conferral
October 2017 – A report on the Commonwealth Ombudsman's inspection of the Australian Federal Police under the Telecommunications (Interception and Access) Act 1979.
In addition to the above reports we published quarterly reports on the VET Student Loans Ombudsman, Overseas Students Ombudsman and the Private Health Insurance Ombudsman.
The Defence Force Ombudsman team produced monthly reports on statistics for reporting abuse and the inspections team published a number of annual and quarterly reports throughout 2017–18.
New function–VET Student Loans Ombudsman (VSLO)
The new VET Student Loans Ombudsman function, which investigates complaints about the VET Student Loans program and VET FEE-HELP scheme, commenced on 1 July 2017.
In 2017–18 we received 6,397 complaints from students disputing their debts or other issues with their VET provider. The overwhelming majority of these complaints relate to debts incurred by complainants under the historic VET FEE-HELP program.
Much has been written about the failings of this program, its design, its administration and the behaviour of certain VET providers. However, it has left a long tail of individuals who have incurred debt for which some form of redress would appear to be desirable. We have been able to close some of the complaints with a satisfactory outcome, but many complex complaints remain subject to investigation and the identification of appropriate remedies. We continue to work constructively with relevant agencies on these matters.
National Disability Insurance Agency
During the year, as the roll out of the scheme continued, we received 1,528 complaints about the NDIS–256 per cent more than last year.
In May 2018, I released my report into the National Disability Insurance Agency's (NDIA) handling of reviews of decisions under the National Disability Insurance Scheme Act 2013. The report discusses systemic issues highlighted by complaints and stakeholder feedback including significant backlogs, delays in decision-making and poor communication practices.
The report made 20 recommendations aimed at improving the NDIA's administration of reviews, all of which were accepted by NDIA.
Leadership of the Office
2017–18 was my first full year as Commonwealth Ombudsman, having been appointed in May 2017. During the year, I was pleased with the government's appointment of the new Deputy Ombudsman, Ms Jaala Hinchcliffe who we welcomed to the Office on 6 November 2017.
Together with our senior leadership team, we have commenced several internal reforms aimed at sharpening our impact on the systems for which we play an oversight role. In particular, we have restructured the Office along more logical functional lines that will enable more efficient use of our resources. We have stood up a new Strategic Policy Board–comprising the Office's executive–the task of which is to assess, on a whole of Office basis, where we should direct our efforts towards systemic issues that ought be investigated and reported. We are focused on preparing timely, short, targeted reports where possible.
We are also focusing on how we can best help individual complainants. Like most Ombudsman schemes, it is impossible for us to thoroughly investigate more than a minority of complaints and, as a result, in some instances we refer complainants back to the agencies about whom they are complaining.
We are taking steps, therefore, to improve our knowledge of what the complainant experience is like, and to improve the capability of complaint-handling areas in the large line agencies. We are working to create a "feedback loop" so that we can gain an insight into what outcomes are being achieved; we have made good headway in this area with Australia Post during 2018, and we will pursue this concept further in other agencies in the year ahead.
We also continue to focus on providing assurance to the Parliament and the public about the manner in which certain intrusive and covert powers are used by law enforcement agencies.
While we have published a range of reports during the year, we also continue to do much of our best work in a more informal way with agencies, identifying issues and working collegiately to encourage agencies to fix them. I am grateful to Secretaries and agency heads for their assistance in this endeavour.
Of course, none of the work I have outlined would be possible without the hard work and dedication of our staff, who I sincerely thank for their contribution.

Michael Manthorpe PSM
Commonwealth Ombudsman