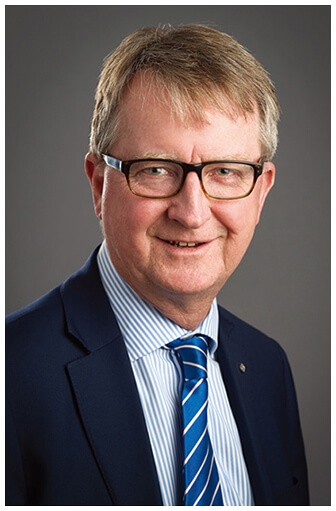 I am pleased to introduce the annual report for the Office of the Commonwealth Ombudsman for 2016–17.
This is my first annual report, having been appointed to the role of Commonwealth Ombudsman on 8 May 2017. It is important to record, therefore, that the achievements and activities described in this report reflect most particularly on the efforts of my immediate predecessors: Colin Neave, whose term as Commonwealth Ombudsman ended on 13 January 2017, and Richard Glenn and Doris Gibb who fulfilled the role between Mr Neave's departure and my arrival.
Of course, none of the achievements of the Office are possible without the hard work and dedication of our staff, who I sincerely thank for their work.
As the following paragraphs demonstrate, it was a year of growing volumes of work and an expansion of the Office's jurisdiction. These factors, and the need to meet our statutory functions, made for a challenging year and set the scene for the years ahead.
Growth in complaints and new functions
In 2016–17, our complaint-handling work continued to grow. We received a total of 41,301 approaches compared to 37,753 in 2015–16—an increase of nine per cent.
While some of this increase was attributable to new functions, it is clear complaint numbers are rising, primarily driven by Human Services – Centrelink, private health insurance complaints and growing numbers of complaints about the National Disability Insurance Scheme (NDIS). In an environment of increasing demand for our services, we are focusing on innovation and technological opportunities to deliver our services more efficiently.
40 years of the Commonwealth Ombudsman
While this year was one of significant change for the Office, it was also a year of reflection—with 2017 marking the Office's 40th anniversary.
In April 2017, we celebrated 40 years of operation with the completion of a commemorative book—Making a difference—40 years of the Commonwealth Ombudsman. The publication was launched at our 40th anniversary conference at Old Parliament House on 5 April 2017. Over 100 people attended to hear from national and international speakers on the Office's achievements, contemporary vision for integrity organisations, and the evolving role of ombudsmen.
Investigation reports
During 2016–17, my Office released the following investigation reports which are all available on our website.
April 2017 – Centrelink's automated debt raising and recovery system
January 2017 – Investigation into the processing of asylum seekers who arrived on SIEV Lambeth in April 2013
December 2016 – Investigation into Indigenous Language Interpreters
December 2016 – Own motion investigation into people who have their Bridging visa cancelled following criminal charges
December 2016 – The Administration of Section 501 of the Migration Act 1958
December 2016 – Accessibility of disability support pension for remote Indigenous Australians
August 2016 – Investigation into the management of the Small Pelagic Fishery Resources Assessment Group
July 2016 – Investigation into the Tourist Refund Scheme and the application of the 30 minute rule.
Postal Industry Ombudsman
This year also marked the 10th year since the establishment of the Postal Industry Ombudsman, which investigates complaints about postal services provided by Australia Post and certain Private Postal Operators.
New function—VET Student Loans Ombudsman (VSLO)
The new VET Student Loans Ombudsman function, which investigates complaints about the VET Student Loans program and VET FEE-HELP scheme, commenced on 1 July 2017.
In 2016–17, we collaborated with a number of external agencies to take part in community engagement activities to raise awareness of the new function, and to engage with on-the-ground contacts in vulnerable communities. The VSLO Team presented to a wide range of agency and industry stakeholders at the Financial Counselling Australia Conference, and presented to nearly 3,000 vocational education and training providers across Australia as part of the Australian Skills Quality Authority (ASQA) provider briefing sessions.
Expanded function—Defence Force Ombudsman
From 1 December 2016, the Defence Force Ombudsman's (DFO) functions expanded to provide an independent mechanism to report serious abuse in Defence.
The Office launched an outreach program in early 2017 which involved my staff visiting 40 Army, Navy and Airforce bases over a two-month period, providing 52 presentations to over 2,000 members. The program provided members with an overview of the role of the DFO and information on the new abuse reporting function.
One of the remedies we can offer to people who report serious abuse is participation in the Office's Restorative Engagement Program.The program is designed to support the reportee to tell their story of abuse to a senior representative from Defence in a private, facilitated meeting called a Restorative Engagement Conference.
National Disability Insurance Scheme (NDIS)
To bolster our understanding of what participants, families, providers and support organisations experience when engaging with the National Disability Insurance Agency (NDIA) and the NDIS, our disability team travelled to a number of regions to meet with key stakeholders. These outreach activities enabled our staff to better understand issues participants were facing as part of the NDIS rollout and some of the barriers and challenges to seeking assistance and lodging complaints.
Expanded function—ACT Ombudsman
Under a Services Agreement between the ACT Government and my Office, I am also the ACT Ombudsman. In 2016–17, this function was expanded to include the ACT Reportable Conduct Scheme (the scheme) which commenced on 1 July 2017. The scheme addresses employment-related child protection issues and covers certain employers who work with children.
We prepared for our new role by establishing relationships with child protection services, existing regulators, professional oversight bodies and employers in the ACT. From March to July 2017, the Office presented 31 information sessions to more than 750 attendees, most of which represented employers covered by the scheme. In addition, resources and practice guides were published by the Office to help employers understand their obligations under the scheme.
International engagement
Our continued partnerships with our allied integrity institutions in the Asia-Pacific region are important to my Office. In 2016–17 the Department of Foreign Affairs and Trade funded the Office's delivery of an International Program to improve the governance and accountability of integrity agencies in the Asia-Pacific region.
We delivered three programs: a partnership program with the Ombudsman Republik Indonesia, a twinning program with the Ombudsman Commission of Papua New Guinea, and the Pacific Governance and Anti-Corruption Program with seven Pacific Island countries.
Law Enforcement Ombudsman
It was another busy year for the Law Enforcement Ombudsman function of my Office.
In 2016–17 we received 290 complaints about the Australian Federal Police (AFP), compared to 286 in 2015–16.
As well as our regular engagement with the AFP Professional Standards (PRS), such as presenting at induction programs for new investigators, we monitored aspects of the AFP's cultural reform agenda. In particular, we noted the AFP's pro-active response to the report Cultural Change: Gender Diversity and Inclusion in the Australian Federal Police, which detailed the findings of a comprehensive study of diversity and inclusion in the AFP, by former Sex Discrimination Commissioner Elizabeth Broderick. This work will continue during 2017–18.
Private Health Insurance Ombudsman
The private health insurance complaint workload has continued to grow. After several years where private health insurance complaint levels remained steady, the past three years have seen an increase. In 2016–17, we received 5,750 private health insurance complaints, compared to 4,416 in 2015–16 and 4,265 in 2014–15. Similarly, the number of enquiries relating to private health insurance has also increased. In our consumer information and advice role, we received 3,749 consumer information enquiries in 2016–17, of which 67 per cent were received through consumer website privatehealth.gov.au
Looking forward
The Office's 40th anniversary was a time of reflection on the Office's achievements and its place in the administrative landscape. It is not, however, cause for complacency.
Looking forward, the Office confronts many challenges. Firstly, we need to ensure that people who come to us for help receive a service that is fair, professional and as useful as possible. Yet, given the increasing volumes of complainants, we must think carefully about our business models and priorities so that those who need us most can access our services, and where possible, we make use of technology to find the most efficient way to assist people.
Secondly, while the Office's new functions are at various stages of implementation as we enter the year, it will be critical during 2017–18 to execute them well. At the time of writing, for example, we had already received around 2,000 complaints about historic VET Fee Help debt issues that are placing an immediate strain on the new VET Student Loans Ombudsman Team. We need to work closely and with a sense of urgency with relevant agencies to look for remedies for these complainants, where it is possible and fair to do so.
Thirdly, we need to maintain delivery of critical oversight functions to ensure the public can have confidence in the manner in which law enforcement and other agencies exercise certain intrusive or covert powers.
Finally, while managing individual complaints is important, of greater systemic importance is maintaining a critical eye on areas of complaints that highlight trends or issues that need to be addressed at the program or policy design and implementation level. In this context, we will maintain a particular focus on the rollout of the National Disability Insurance Scheme, further reform at the Department of Immigration and Border Protection and the yet to be created Department of Home Affairs, and various elements of welfare reform and service delivery.
We will need to do all of these things within a tight resource environment, though given the track record of our staff, I am confident we will succeed.

Michael Manthorpe PSM
Commonwealth Ombudsman