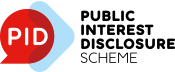 The Public Interest Disclosure Act 2013 (PID Act) came into operation in January 2014 to encourage public officials to disclose suspected wrongdoing in the Commonwealth public sector.
About the PID Scheme
The objects of the PID Act are to promote integrity and accountability within the Commonwealth public sector by:
placing responsibility on Australian Government agencies to proactively manage public interest disclosure issues;
encouraging and facilitating disclosure of suspected wrongdoing in the public sector;
ensuring that public officials who make public interest disclosures are supported and protected from adverse consequences; and
ensuring that disclosures by public officials are properly investigated and dealt with.
The PID Act offers public officials certain immunities from liability, and protections from reprisal, when they make a PID to the relevant Australian Government agency. The PID Act is designed to provide public officials with assurance that if they make a PID, it will be dealt with appropriately within government, and they will be given support and protection from reprisal in relation to their PID.
Australian Government agencies, Commonwealth companies and public authorities play a central role in managing PIDs and addressing any related reprisal risk. A disclosure made to the relevant agency and to an appropriate official is called an internal disclosure. The PID Act requires that an internal disclosure be investigated confidentially and within certain timeframes. There is also a requirement to provide updates to the discloser about the agency's decision making at certain points during the PID process, and upon completion of the investigation, provide the discloser with a report on the outcome.
The Commonwealth Ombudsman and the Inspector General of Intelligence and Security (IGIS) have oversight over the operation of the PID Act. Both can receive and investigate PIDs from public officials in appropriate circumstances, and have a role in providing assistance and awareness of the PID scheme.
More information about the PID scheme for agencies can be found on the agency page.
Information for public officials thinking of making a PID can be found on the discloser page.
More information about the role of the Ombudsman's office and the IGIS can be found here.